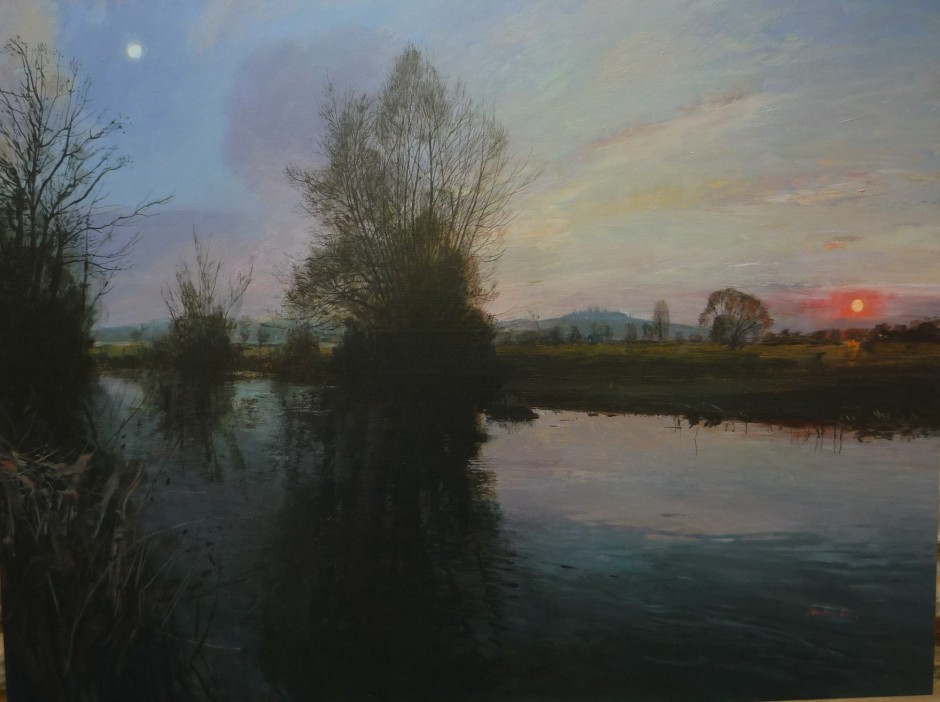 Landscape of the Vernal Equinox, Whittenham from the River Thame.
When following the St Birinus pilgrimage route to Dorchester in Oxfordshire one passes the Whittenham Clumps, two low hills with tight wooded crowns. They exert a curious power and it is easy see how these hills held a fascination for the artist Paul Nash. My visit coincided with the Vernal Equinox, the time that inspired Nash to produce one of his most beautiful works of this place, the title of which I have used. The Equinox is a time of harmony, of balance, yet also a time that is at the cusp of huge changes in nature.

Nash's work is full of poetic suggestion and transforms this place into the setting for a cosmic drama. I myself was lucky enough to witness, from my own viewpoint, the same balance, the same tipping point in the year, the rising of the moon, the setting of the sun, the change of season.

This was a personal pilgrimage for me; a journey undertaken to see and experience for myself, the force of this place at this time. It is a celebration of two individuals, Birinus whose mission was to transform the spiritual life of this place and Paul Nash who drew inspiration from the area to produce an artwork that transforms the place itself. Just as pilgrims sought an otherworldly experience, to connect with the supernatural, Nash's vision transfigures the place, not in a religious way, but rather by expressing it poetically. He was able to liberate the location from the everyday into a place of luminosity and mystery.